CALL FOR NOMINATIONS PRAIRIE NORTH CO-OP BOARD OF DIRECTORS
Actions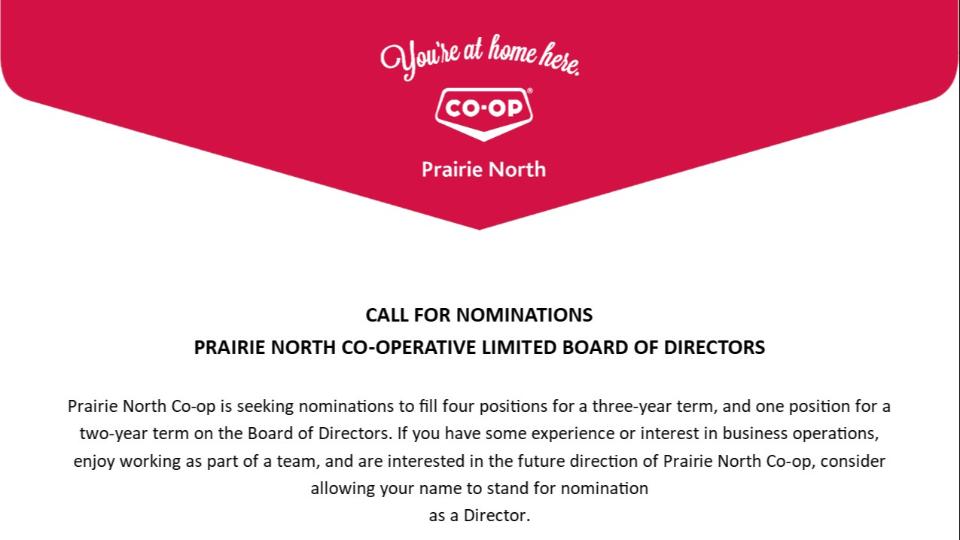 CALL FOR NOMINATIONS PRAIRIE NORTH CO-OP BOARD OF DIRECTORS
March 11, 2021
CALL FOR NOMINATIONS PRAIRIE NORTH CO-OPERATIVE LIMITED BOARD OF DIRECTORS
Prairie North Co-op is seeking nominations to fill four positions for a three-year term, and one position for a two-year term on the Board of Directors. If you have some experience or interest in business operations, enjoy working as part of a team, and are interested in the future direction of Prairie North Co-op, consider allowing your name to stand for nomination
as a Director.
Official nomination packages are available at each of our Food Store locations in Archerwill, Kelvington, Melfort, Naicam, Spalding and St. Brieux. Candidates must meet the qualifications of a Director as described in the Prairie North Co-op bylaws and must provide a brief biography of their background for distribution.
For further information contact the Melfort Administrative Office at 306 752-9381.
NOMINATION FORMS MUST BE RECEIVED AT THE MELFORT ADMINISTRATIVE OFFICE BY MONDAY, MARCH 22 AT 5:00 PM

Voting will take place between April 12 and 17, 2021 with election results announced at the Annual General Meeting later in the month.