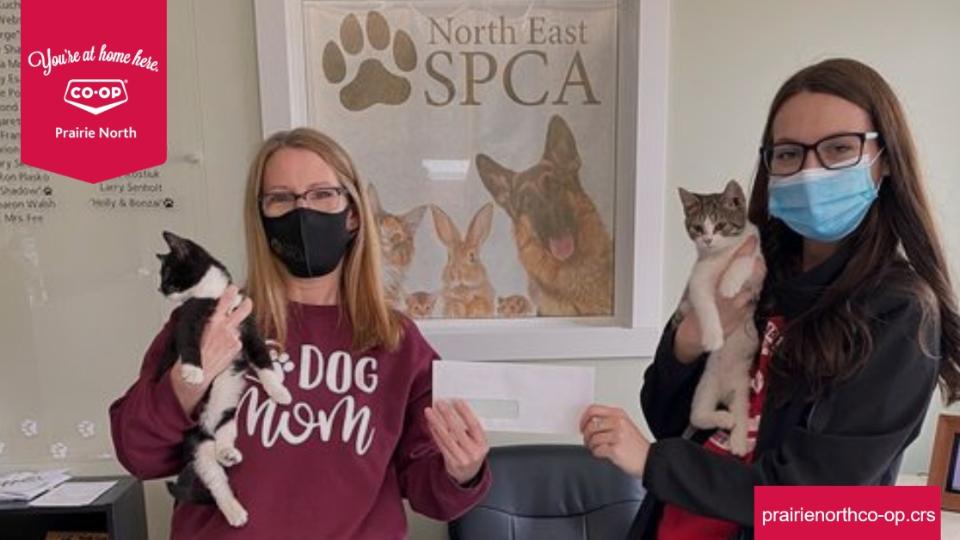 2021 Propane for Pets
August 12, 2021
Prairie North Co-op is not just another place to shop. We are members, we are owners, we are a different kind of business, and we give back! Prairie North would like to send a huge thank you to everyone who participated in our Propane for Pets campaign where we were able to help the North East SPCA (NESPCA) again this year.

We love when our team members come up with great ideas! Keith Mamer our gas bar division manager had seen a similar fundraising event in Alberta and took the initiative with Federated Co-op Limited (FCL) to make things happen. After meeting with Jason White at FCL Propane, they decided that FCL would be donating the propane and that a percentage of the money raised from propane sales in one day would be donated to the North East SPCA.
The first Propane for Pets campaign was held in 2019, where 50% of all propane sales from our gas bars plus proceeds from a BBQ at each of our gas bar locations was raised. The 2019 total donations amounted to $5,422.25. A total of 4,814 liters of propane were sold across our trading area.
Unfortunately, due to the COVID-19 Pandemic, the 2020 Propane for Pets campaign had to be cancelled but we were excited to be back with the campaign in 2021!
Our annual Propane for Pets Day was held on Thursday, April 29th, 2021, where 50% of all propane sales for the day in Archerwill, Kelvington, Melfort, Naicam and St. Brieux, plus $2 from every coffee and car wash sale were donated throughout the week. Due to COVID-19 restrictions, there was no BBQs in 2021. Despite this, our 2021 donation totaled $3000!
Along with donating directly through this fundraiser, Prairie North Co-op also makes regular donations during the year to the NESPCA including, cat litter, laundry detergent and other necessities. A new initiate is currently in the works that will see outdated and past employee uniforms converted into pet beds and other usable cloth items needed at the Harry and Eve Vickar Shelter.