2023 Board of Directors Election
Actions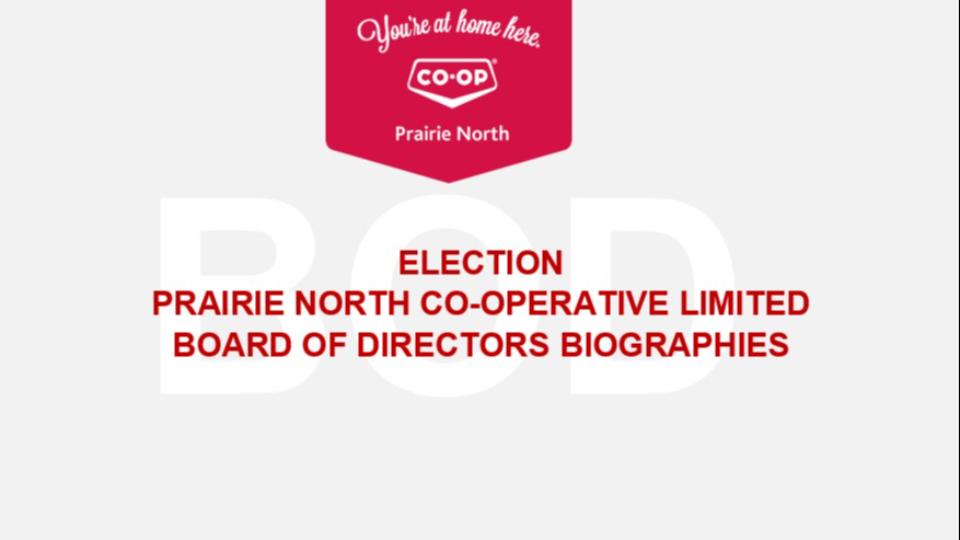 2023 Board of Directors Election
April 13, 2023
An election was held April 17th through 20th to select three candidates to fill a 3-year term on the Board of Directors. The results of the 2023 Prairie North Co-op Ltd. Board of Directors election are in. Congratulations to Kelly Copeland and Greg Maslin on their re-election, and welcome to new board member, Rick Peters.
WE WOULD LIKE TO TAKE THIS OPPORTUNITY TO THANK LORNE TYACKE FOR HIS 27+ YEARS OF SERVICE ON THE PRAIRIE NORTH CO-OP BOARD OF DIRECTORS
Biographies of each director follow in alphabetical order.
KELLY COPELAND
I have been a Prairie North Co-op Board member for 6 years, serving as vice president for the past three. I enjoyed a 34-year career at SaskTel working as an operation manager in customer service, retail sales and construction over the last 15 years.
I have been an active farmer for the past 35 years and am currently still farming.
Our local Prairie North Co-op continues to be a vibrant part of our communities, delivering quality products and services, supporting many organizations with local funding, and providing quality employment opportunities in our trading area. Prairie North Co-op has seen many changes over the years, and no doubt will see more in the future, I look forward to serving the members moving forward.
GREG MASLIN
I live on a mixed farm near Archerwill with my wife Kellie and 3 children. I attended Archerwill and Rose Valley schools, then graduated from the University of Saskatchewan in 1998 with a degree in Agriculture. I joined the Archerwill Co-op board in 2005. I served on that board until 2018, when Archerwill Co-op joined Prairie North Co-op. I joined the Prairie North Co-op after the merger. I'm also a member of the Archerwill Rink board and Archerwill sports day committee. I have spent many years coaching minor hockey and baseball. In my leisure time I enjoy curling, softball, and hockey.
RICHARD (RICK) PETERS
I have lived in Melfort since 1986. Mavin and I raised our three children here and we are regulars at the Melfort United Church and Melfort Music Festival. I have had an interest in the cooperative movement since high school, attending the Cooperative Youth College of Canada.
I retired from Saskatchewan Health Authority in August 2022. I spent my entire career in health care working in Mental Health and Addiction Services and finally as the director of Primary Health Care in Tisdale. During my career I had the opportunity to lead locally, provincially and nationally, working as the chairman for the Minister of Health Alcohol and Drug Abuse Advisory Committee from 2000-2003, chairman for the Provincial Directors of Mental Health and Addiction Services 2017-2021 and chairman for the Alcohol and Drug Abuse Provincial Directors Working Group. A career highlight was serving as the vice president for the Canadian Executive Council on Addictions.
I was elected to the Melfort School Division 100 Board for three terms starting in 1995, on that board I served as the vice chairman, Finance chairman and chaired the Bridges Operation Committee. The Bridges Operation Committee was as a forum for industry, primary and secondary education, and Community to create opportunity for students to bridge gaps between education, community, and industry. Locally I have served as the chairman of the Board for the Melfort Crisis Center (now North-East Outreach support Services, (NEOSS) and Melfort United Church.
LORNE TYACKE
I was born and raised on the family farm 15 miles south of Melfort. I attended MUCC and graduated from Gr. XII in 1965, from there I worked for seismic the winter of 1965-1966. In the spring of 1966, I stared working construction at the Potash mined in Southeast Sask. I signed an electrical apprenticeship and attended Technical school in Moose Jaw. After acquiring my interprovincial journeyman's papers, I continued working in the Electrical Trade in British Columbia until the spring of 1974. That is when I moved back to Melfort and began working the family farm with my father. This is the mixed farm that I still operate today.

I also have my Electrical Contractor's license, which is current, and do small jobs and trouble calls. In 1982 I did a five-month electrical job for an expansion at CSP Foods in Nipawin. In 1983 I acquired the electrical labor contract through a company in Saskatoon, to do the building of the current Melfort Hospital. I am quite involved with our church, The Salvation Army. I serve on the Corp. Council and volunteer my electrical skills. I am also very active in my local community, and The Silver Park Community Club.
I served on the Melfort Co-op board from 1995-2009. Again in 2011, I ran for election to the Prairie North Co-op board and was successful. I'm currently still on the board. My term is up this year, and I have submitted my name again. I am very interested in the growth and future of the Prairie North Co-op and would be honored to serve another term.