2nd Annual 12 Days of Giving
Actions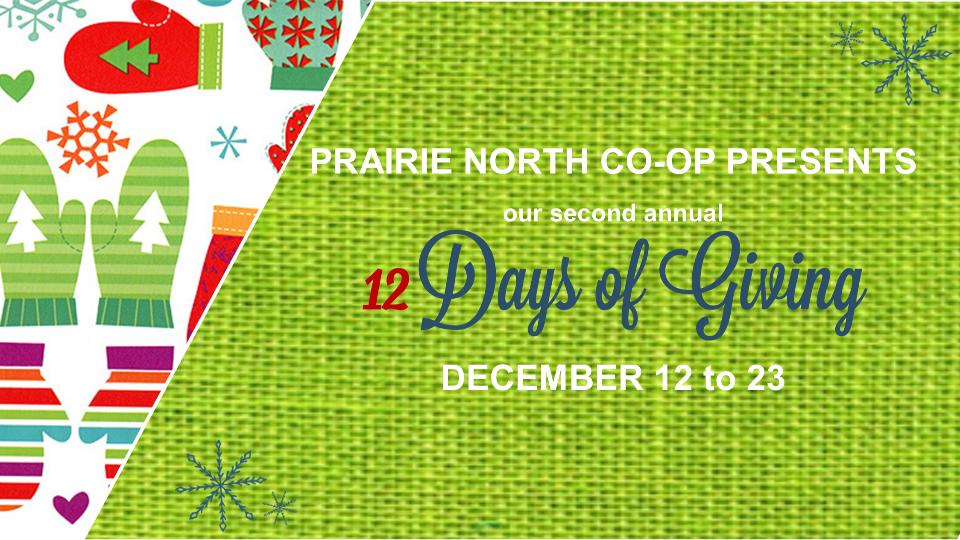 2nd Annual 12 Days of Giving
December 13, 2022
For the second year in a row, Prairie North Co-op is running its Twelve Days of Giving in conjunction with its Twelve Days of Christmas contest. The Twelve Days of Giving is our opportunity to take a look at the past year, what we've invested in Community Giving, determine where there may have been gaps, and address them.


This past September we put a call out for applications to the Sustainable Communities Fund. Four projects were chosen. Unfortunately, the Melfort Cross Country Ski Club's application was not successful under that program but we were able to help through two others:
1. we made a $750 donation through our Community Support fund; and
2. because Martin Green works for Prairie North, we were able to access an employee benefit. Team Member Community Involvement is a program to acknowledge and encourage team member continued involvement and volunteerism in the community. Team members who volunteer their time to a community organization are eligible to receive a $250 donation from Prairie North on their behalf paid directly to the organization. The team member must have given a minimum of 50 hours of service to the group in the past year and have been involved with the group for at least two years.

That is a total of $1000 toward the purchase of new trail grooming equipment! The Melfort Cross Country Ski Club has launched an online fundraiser to raise an additional $2500. To contribute, visit https://gofund.me/cecf6204



Based on concerns raised by our team members about the increasing cost of living, inflation, and rising interest rates, last September Prairie North Co-op created a program in which every person employed by our co-operative was given a discount card. Today we are proud to be able to provide similar assistance to the families who have opened their homes to billet Melfort Mustangs players. "When we purchased Paragon Ag in February we made a commitment to Don Nash and Sherman Boland to continue to support the charities and organizations that they had supported," explains Terry Trembly, Prairie North Co-op GM. "The billet family discount seemed like a great way to honour that commitment."



As part of our efforts to reduce waste, Prairie North Co-op charges 5 cents for single-use plastic bags. What makes us a different kind of business is that when you bring your reusable bags when shopping in our Food Stores we track that and donate 3 cents to school food programs in your community. Through your efforts almost 117,460 reusable bags were used this year. On this, the THIRD DAY OF OUR 12 DAYS OF GIVING, we are proud to announce that this money will be added to additional funds to issue cheques in the amount of $1500 to support school lunch programs in Archerwill, Kelvington, Naicam and St. Brieux Schools (Note: Prairie North Co-op has an established program in Melfort)




For the past several years, Prairie North Co-op has provided an annual scholarship in the amount of $500 to a student who is enrolled in Cumberland College and has completed at least one semester of their program. ON THIS, DAY 4 OF OUR 12 DAYS OF GIVING we are proud to announce that we will be continuing to sponsor an additional scholarship in the amount of $500 for a student pursuing either their Agriculture Science Certificate (one year program), or their Agriculture Degree (first year of U of S Agriculture classes at Cumberland College). As an aside, Prairie North also sponsors a scholarship for the children of Prairie North Co-op Employees. The NEXTGEN scholarship is a one-time opportunity per student that can either be used for post-secondary education or supporting elite sports (provincial/national team) or culture opportunities (music, voice, etc.) Just one more benefit of working for our co-operative!



Newborn babies have a short list of needs, and thanks to a partnership between the Yellow Quill Food Bank and Prairie North Co-op, some of the cost of those needs will be offset by a monthly donation of diapers and formula for new moms in 2023.



One way in which we honour our roots is through our commitment to supporting charitable "grow" field projects in Kelvington, Melfort and Naicam with the donation of agriculture inputs and/or fuel. Annually, those donations total over $15,000. Other ways in which our Community Giving Strategy directly supports our rural members and communities is through our sponsorship of local 4-H clubs and fairs.

Prairie North Co-op . . . we are a different kind of business.