2ND ANNUAL SUSTAINABLE COMMUNITIES FUND ALLOCATION ANNOUNCED
Actions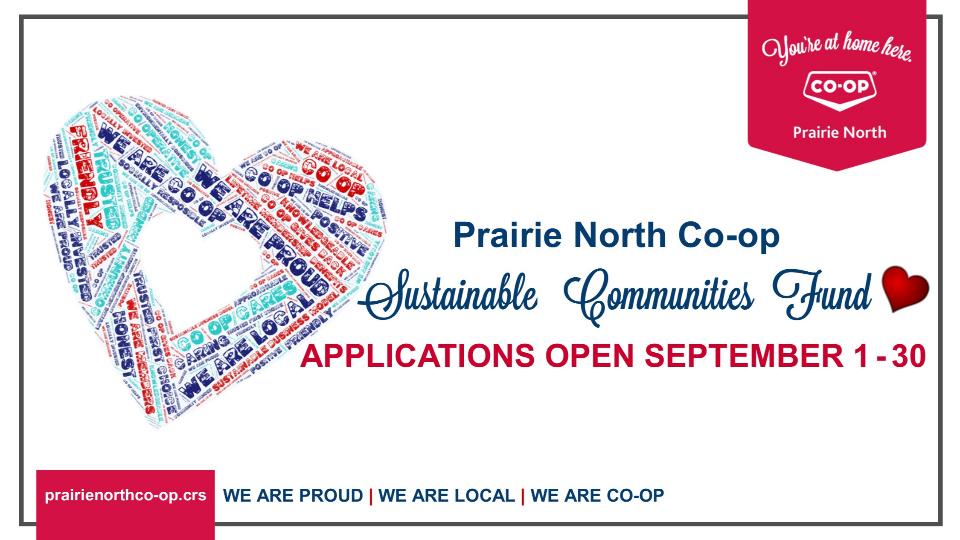 2ND ANNUAL SUSTAINABLE COMMUNITIES FUND ALLOCATION ANNOUNCED
September 2, 2022
Melfort, SK (August 31, 2022) — At Prairie North Co-op, sustainability means looking through the lens of the social, economic, and environmental aspects of our business as we plan and make decisions to ensure viable operations while having a positive impact on the people and communities we serve. We recognize that the success of our Co-op and health of our communities are mutually dependent and that is why we are proud to announce the Prairie North Co-op Sustainable Communities Fund allocation in 2022.
The Prairie North Co-op Sustainable Communities Fund (SCF) is an allocation of funds to non-profit organizations that support community development. The purpose of the SCF is to provide support to capital projects and new programs that will enhance the quality of life for the people in the communities and surrounding region that make up the Prairie North Co-op trading area – Archerwill, Brooksby, Kelvington, Melfort, Naicam, Spalding, and St. Brieux.
Applications for project funding open September 1st and close September 30th. Upon closing, a SCF selection committee will be formed to review the applications and choose which projects will receive funding. Successful applications will be announced in October during Co-op Week.
Funding is to be used to support the development of our communities while reflecting our co-operative values through:
1. Capital projects - build, expand, and/or improve facilities; or
2. New programs - develop and implement new programs that support the people in our communities
"On behalf of the Prairie North Co-op Board of Directors, I am happy to announce that twenty-five thousand dollars has been allocate to the Sustainable Communities Fund this year," says Terry Tremblay, General Manager of Prairie North Co-op. Tremblay goes on to say, "Co-ops have a reputation for giving back to the communities in which they operate. That is only possible because of the patronage of our members and customers. When an individual, family or business makes the decision to shop local, that translates to more employment opportunities for people in our trading area and more money re-invested in our communities. We are proud of the level of support that we provide through daily requests for sponsorship and donations, and I am grateful to our board for endorsing this allocation of funding for those bigger requests."
For more information, or to arrange an interview, please contact:

Terri Larsen,
Marketing and Communications Manager
Prairie North Co-op
306 527-4792
Terri.Larsen@prairienorth.crs
ABOUT PRAIRIE NORTH CO-OP
Prairie North Co-op operates out of 21 locations – from St. Brieux, Spalding and Naicam in the west; to Melfort and Brooksby in the north; and Archerwill and Kelvington in the east. We serve our members with products and services that help build, feed, fuel and grow the communities in which we live and do business.
Prairie North Co-op employs 296 and serves 12,426 members. We continue the tradition of giving back, not only in patronage refunds to our members, but also through financial support to several local organizations. In 2021, sponsorship and donations totalled almost $126,200 to 154 different organizations in our trading area. Locally invested. Community-minded. Lifetime membership benefits. We are Co-op.
Additional Information
Eligibility requirements:
• Must be a capital project or a new program
• The project or program must provide long-term, sustainable, positive results for the greatest number of people
• Most of the funds are directly utilized for the project or program, with minimal administrative costs
• while membership at Prairie North Co-op is not a requirement, preference will be given to our members when the final decision must be made between two comparable projects/programs
• The project must be completed within one year of receiving Community Investment funding (receipts and invoices will be required)
• The project or program must be in the trading area of Prairie North Co-op
• The project or program reflects positively on our co-operative, provides the most exposure possible while maintaining Prairie North Co-op's respected image
NOTE: key players in the project may be asked to co-operate with Prairie North Co-op in media opportunities and ideally will involve opportunity for Prairie North Co-op to volunteer.
What is not funded?
• Annual operating costs
• Groups that support political or religious organizations
• Groups promoting racial or social intolerance
• Advocacy organizations whose causes are publicly controversial
• Federal, provincial or municipal government agencies and school boards
• Individuals or profit-based organizations
• Third-party fundraising campaigns
• Privately owned ventures and/or private clubs
• Professional or technical associations
• Fraternal organizations
• Competitive sports travel and accommodation costs
• Projects outside of Prairie North Co-op's trading area
• Conferences
• Endowments