A Local Success Story: History of Al's Sausage
Actions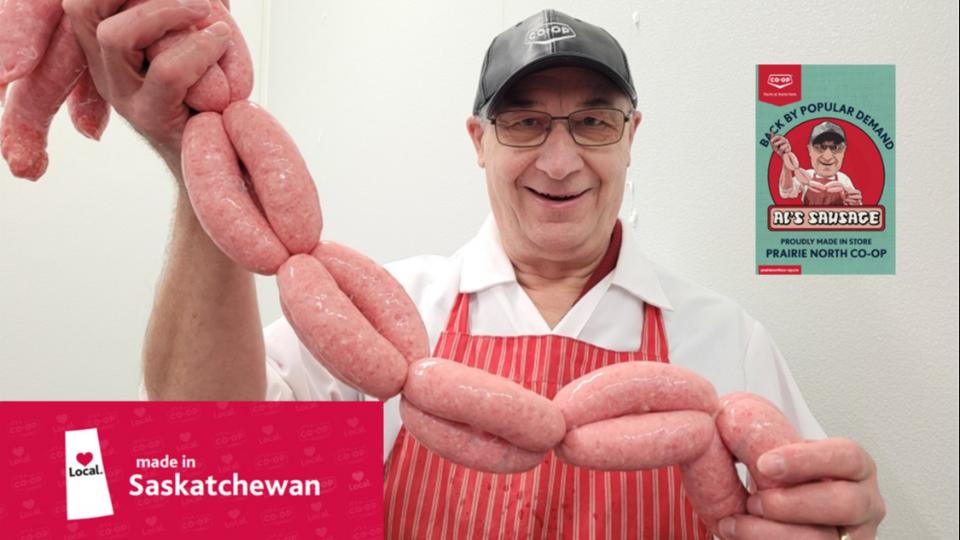 A Local Success Story: History of Al's Sausage
March 11, 2022
The phenomenon that known as Al's Sausage started almost 4 decades ago in a meat shop in Kinistino, SK. Al Paynter began working at Kinistino Meats right out of high school and eventually came to own the business. In September of 2003, Al accepted a meat cutter position at the Melfort Co-op Food Store. Within the year, he started to make his famous sausage recipe but regulations in the food industry at the time brought an end to production.
Fast forward to 2020. Terry Tremblay, General Manager of Prairie North Co-op, and past meat cutter himself, asked the Melfort Food Store team to investigate the protocols for offering in store made sausage. Over the next several months, the team worked with the Canadian Food Inspection Agency to meet the Canadian nutritional labelling standard, while Terry worked to ensure that there was the support of Wholesale Federated Co-operatives Limited for the roll out. Mid-February of 2021 saw Al's Sausage back on the shelves in Melfort.
"Once it hit Facebook, people came from all over the country to buy it," says Paynter, "and I remember there were a couple of times when people even asked to have their photo taken with me in the store." It was not uncommon for the sausage to sell out daily. It was also not uncommon to see several packages in a shopping cart at one time. When asked why he thought it was such a hit, Paynter replied, "it is just a good sausage, made from a simple recipe, and anyone around Kinistino grew up on it. When I was making it in my meat shop, people drove from Regina and Saskatoon to buy it. When people came home for holidays, they would take it back to Alberta and BC."
Kelvington started to make Al's Sausage instore in March of 2021. In its first year of being available through Prairie North Food Stores in Melfort and Kelvington 10,688.68 kg or 23,564.51 lbs was sold. Al Paynter may have retired on September 28, 2021 but his secret recipe is still being made in these stores.
March 10th through 16th, Prairie North Co-op is celebrating the first anniversary of the return of Al's Sausage. In addition to putting Al's Sausage on sale for $4.49/lb, there are two contests running for the week. In Facebook contest, individuals are asked to share their favourite recipe featuring Al's Sausage, sharing a photo of their recipe earns them an additional entry. In the other, every purchase of Al's Sausage in store earns the purchaser a ballot to win a 25lb batch of Al's Sausage. Both draws will be announced on the Prairie North Co-op Facebook page on March 17th.